Learn about the many exciting developments in hearing technology!
Learn about the many exciting developments in hearing technology!
Today's hearing devices are smaller and less noticeable than ever and provide new options to help you hear your best. Advances in battery rechargeability, additional accessories, such as remote controls, and smartphone apps to adjust your hearing aids in real time help you adapt to all types of listening environments.
Try a one week no-risk hearing aid demo.
Where do I start?
Colorado Ear Care was founded to demystify and simplify the process of trying and buying hearing aids. We believe the best way to know if a hearing aid will work for you is to try it in your everyday environments.
Stop Waiting!
On average, it takes people seven years after recognizing the signs of a hearing loss to seek help. Better hearing's positive impacts reach all aspects of your life- relationships, career, and even your own self confidence. With the varied hearing aid options available today, there's no reason to keep missing out. Choosing better hearing allows you to live a more connected, less frustrating life.
Get The Right Provider
Choosing the right hearing care provider is crucial to hearing aid success. No two ears or hearing losses are the same. An experienced provider not only provides the comprehensive testing necessary to correctly diagnose your hearing loss and recommend the correct product, but will also serve as a key person in programming that hearing aid to best fit your needs.
Try It!
Our 3D hearing aid process helps you explore your hearing aid options without the commitment to purchase. After a thorough hearing evaluation and discussion of your results, our providers will work with you to choose a hearing aid that's right for you. You'll get to take that hearing aid home, risk free, for 1 week. At the end of the week, you'll meet with your provider and assess this experience.
One week no-risk hearing aid demo.
Studies have shown it takes people an average of 7 years to come in for a hearing evaluation after first noticing difficulty hearing. Together, we will pick a product to try and let you wear it for a week to see if it's right for you.
1. Diagnose
Detect if a hearing loss is present and explain your options based on your lifestyle.
2. Demo
All patients will be eligible for a free (no payment out of pocket) week demo of hearing aids.
3. Decide
After the free week demo, we'll assess if the hearing aids helped improve your hearing loss or tinnitus. If you decide you are not ready to trial hearing aids, simply return the demo devices.
Your guide to hearing aids
There is so much information about hearing aids available, but it can be overwhelming. Our audiologists at Colorado Ear Care are ready to help you simplify the process.
Hearing Aid Brands
How do you know which hearing brand is right for you? Hearing aid manufacturers make a variety of models for different hearing loss needs and lifestyles.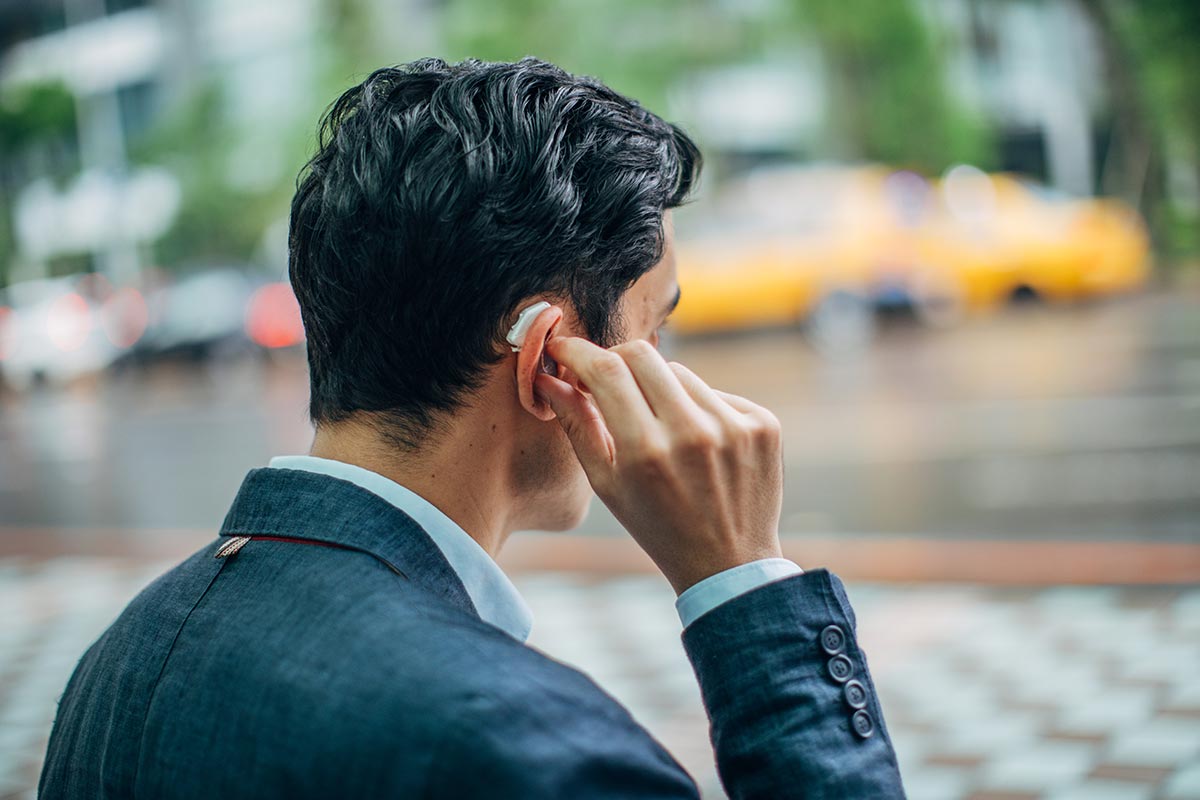 Hearing Aid Styles
Hearing aids come in a variety of styles. The power of your hearing aid, your lifestyle, and the functionality you require will all factor into choosing the right style.
Hearing Aid Features
Advanced hearing aids offer incredible features such as reduction in wind or background noise, rechargeable batteries, and Bluetooth connectivity.
Hearing Aid Fitting
After you choose your hearing aid, you'll need to meet with an audiologist for your hearing aid fitting appointment. See the process and what will happen during your visit.
Hearing Aid Batteries
Not sure what size battery you have? Need to identify a battery by its color? Get the answers you need about hearing aid batteries.
Hearing In Difficult Situations
Family dinners and busy restaurants are important social moments, but they can be incredibly difficult when using hearing aids. Learn about the technology and communication tips that can help.
How Do Hearing Aids Work?
Hearing aids may all look quite different, but they typically have the same primary components. Find out how hearing aids help you with your hearing loss.
How Much Do Hearing Aids Cost?
Trying to find hearing aid prices can be difficult. Depending on how you are paying or getting access to hearing aids, the pricing can vary.
Better hearing starts with a hearing test.

Already wear hearing aids?
Do you already wear hearing technology? We're happy to serve you! Our audiology professionals have experience programming and fitting a wide range of devices across most brands. Whether you're in need of hearing testing, aid adjustment, or are considering upgrading your devices, the Colorado Ear Care team would be proud to serve you.
Whether you need a hearing aid adjustment, cleaning, or an upgrade—call Colorado Ear Care today!